The concept and importance of Metarobic exercise is in many respects from out of left field – what does it mean to identify a new field and category of exercise, and why should it matter? Is this really a new field of exercise? (see Metarobics.org to answer this question, or my book) The past few months I have come across stories of other important innovations, which were also overlooked or even suppressed in the beginning. Innovations so groundbreaking, that it is impossible to imagine the fight they underwent to become accepted. The first was the story of Louis Pasteur. He discovered that micro-organisms cause fermentation and disease. From these observations he originated the process of pasteurization. He also developed vaccines against anthrax and rabies. But not easily. He was opposed, suppressed, and even threatened with the guillotine at one point. Since he was a chemist rather than a medical doctor, the medical establishment refused to listen to his observations and theories, that germs were the underlying cause of disease, and that the simple process of washing hands could save millions of lives. It was a major fight to get even one doctor to wash his hands before operating. When he created the first vaccine, and wanted to administer it to rabies patients, he was rejected as foolish and ignorant. He finally gave the vaccine to a young boy with rabies, knowing that the boy would die anyway without it. Authorities threatened him with a murder charge and the guillotine if the boy died. The boy lived, and Pasteur was finally given a rabies ward to try out his vaccine. There were something like 20 patients, all expected to die. They received the vaccine and lived. Finally Pasteur got recognition for his work.

I have come across others who faced similar battles. Nikola Tesla, who is finally getting larger scale recognition for his work with electricity, had to come to America, after France and Germany refused to look at his research into alternating current (AC). Even in America it was a fight. Thomas Edison, who favored DC, refused to sell Tesla's backers (Westinghouse) light bulbs for a major demonstration. They had to develop their own bulbs. The demonstration and effectiveness of AC was such a success, that it is now found in every home and business across America. Then I read the story of David Bruce, who discovered the link between tsetse flies and sleeping sickness, and saved millions of lives in Africa. His work was spread over 10 years due to lack of interest in his work. And it is no easier today. Alzheimer researcher Lawrence Rajendran noted that with the many barriers facing scientific innovators, the current climate in research may have made many important discoveries of the past impossible today. He noted that Alexander Fleming's simple observation, that penicillin mold killed bacteria, could never be published in modern journals. Fleming's observations on penicillin led to the development of lifesaving antibiotics.

Metarobic theory may not be as groundbreaking as vaccinations, pasteurization or antibiotics, but it does have a close parallel to aerobic theory, developed by Kenneth Cooper over 45 years ago. Cooper's observations created a billion dollar industry, and saved millions of lives, by bringing awareness of the importance and parameters of aerobic fitness. From my research, and the case stories I have collected, Metarobic theory could do the same thing today – creating a new industry, more career opportunities for Tai Chi, Qigong and Yoda teachers, and save millions of lives. Yet as an innovation, I am facing many of the same barriers as Pasteur, Tesla, Bruce and others. Indeed, based on feedback from agents and the publishing industry, until I become "famous," or my work is backed by a celebrity, it will be difficult to get my work picked up by a major publisher or journal. This may come in time, but in the meantime, people are suffering and lives are being lost needlessly. So I would like to do more than wait. I would like to ask for your help, in re-posting my blogs, Facebook posts, and if you know any celebrities, asking for their help (anyone know Oprah?). I am told that if Ken Cooper, as an unknown military doctor, tried to publish his ground breaking book "Aerobics" today, that no publisher or agent would look at it (yet this book has sold over 30 million copies). Imagine what the state of health of the nation would be, if people still thought that good health consisted only of strong muscles and strength training. People ran, biked and swam before Cooper's book "Aerobics," but in small numbers compared the surge of interest following the publication of his book (see the chart below for effects of the publication of his book on cardiovascular disease).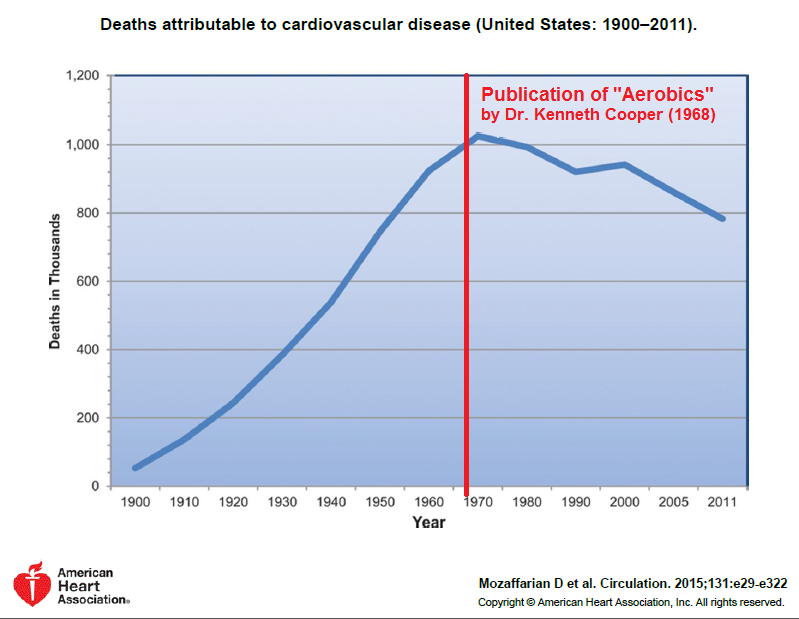 Many people practice Tai Chi, Qigong and Yoga today, but only a small portion of our total society. I believe (and preliminary reviews support this), that publication and promotion of "
Metarobics"
will have the same effect on these exercises as "
Aerobics"
did on running, swimming and biking, not to mention the entire aerobic industry. As Bill Douglas, author of "
The Complete Idiot's Guide to T'ai Chi & Qigong
" (4 editions), founder of World Tai Chi & Qigong Day (celebrated in 80 nations), and recipient of too many awards to mention, noted in his review that "
This book can help open a portal that will in time see (an) increase to 20, 30, or even 60% of Americans using these highly effective tools of Tai Chi and Qigong…"
Take a look at the pages on the Metarobic Institute page (
http://metarobics.org/
) and the Metarobic Facebook page (
https://www.facebook.com/metarobics/
). If what you read makes sense, and you would like to help promote awareness and research into Metarobic exercise, share these sites as much as you can. If you or someone you know might be interested in being a spokesperson, or in promoting Metarobics, please let me know at:
drgryffin@metarobics.org
.
In the meantime, thank-you for your interest. My next post will continue the story, and why I am currently focusing on Metarobic research for cancer.
- Dr. Gryffin