Metarobic Institute - Mind/Body Research: Tai Chi as a Mindfulness Based Practice.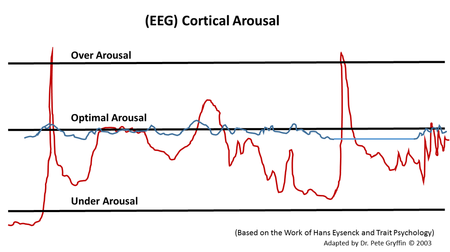 Aside from benefits for health and chronic conditions, Metarobic exercises can also benefit psychological health as a mind/body practice. Mindfulness Meditation as, popularized by Jon Kabat-Zinn, is aimed at transforming behavior through enhanced non-judgmental in-the-moment awareness. As a form of moving meditation and mindfulness based practice, Tai Chi can help develop greater self-understanding, focus and sense of calm. Meditative practices can also create a subtle shift in mental function, with measureable changes in brain (EEG) waves (see chart). The red line is the EEG waves of an untrained mind (simplified for illustration). Throughout the day it shoots up and down, like a roller coaster, in response to various stimuli. If stimulus is too much, the mind can actually freeze or shut down (the "deer in the headlights" syndrome). An example is being asked a question by the teacher in a class. Even if you know the answer, having the teacher and everyone looking at you can increase cortical arousal (the EEG waves) to over arousal, and the mind freezes. The teacher looks away, figuring you did not study, and the answer "pops" into your head, as cortical arousal returns to more optimal levels. If there is not enough stimulus, (under cortical arousal), the mind gets drowsy and slow to respond. The mind functions most efficiently somewhere between the two, at optimal cortical arousal. In this state, the mind functions at peak efficiency, and does better on tests and other demanding situations. Zen training helps the mind to stay at optimal arousal (the blue line), focused and ready for action, inspiration, and interaction. Tomio Hirai found that the EEG waves of Zen monks would actually "flat line" during mediation. Researchers had never seen this before, and had to come up with a new term, "brain trains," rather than "brain waves."

Mindfulness can also help with addiction to drugs, alcohol, and tobacco, as well as to self-destructive behaviors (such as various forms of self-sabotage). It can also help with diet (increasing awareness of what we eat, when we eat, and why we eat). Much of eating is a stress reaction. Hence "comfort food."

Elements of Mind/Body training, rooted in Zen practice, includes Mushin (No-Mind), which in East-West psychology can be translated as mindfulness from "emptiness." The idea is that to become mindful, you first have to become an empty vessel (a great tool for dealing with past trauma and abuse). It is easier to not be haunted or tormented by the past, if you live in the moment (i.e. "Mindfulness"), empty of the past. Other critical concepts include developing control of the "Monkey Mind" (random and destructive thoughts), and superior focus (Isshin, One Mind), as paths to Kensho (Self-Nature/Self-Realization). Essentially using a physical practice to train the mind. As such, exercises such as Tai Chi are ideal for this.

Awareness (Sati in the Buddhist tradition) is a major component in Zen therapy, developed as a means for eliminating destructive behavior and thoughts. Meditation is used as a tool to develop awareness of destructive habits and reactions, and to enhance identification of cues triggering negative behavior. Essentially a mental "stepping back," allowing space for purposeful action, as opposed to uncontrolled, destructive, and unconscious reaction.

Insight (vipassana in the Buddhist tradition) is critical for behavior modification, and closely related to awareness. Without insight of what needs changing, and of the destructive influence of negative behavior, change will never happen. Even something as obvious as putting a cigarette in your mouth can become an unconscious habit. Awareness of smoking related cues and behaviors can trigger insight and conscious control of smoking behavior. For information on using Tai Chi as a Mindfulness Based Practice for Smoking Cessation, see: Gryffin PA, Chen WW. Implications of t'ai chi for smoking cessation. Journal of Alternative and Complementary Medicine. 2012; 18(6): 1-5.

Stress is both a physiological response as well as a mental reaction to life beyond control. Enhanced awareness, coupled with the discipline developed from daily practice, and the benefits of exercise, can short-cut situations which create stress, permitting greater control and mastery over life. Focusing the mind on the movements in Tai Chi places the mind in a relaxed state beyond thought, which can break vicious cycles of stress and worry. Tai Chi and other exercises (including aerobic forms of exercise, such as running) also stimulate natural production of endorphins and endocannabinoids, which work on receptors in the body stimulating an effect similar to opioids (opium) and cannabis (marijuana), but without the dangerous side effects or addictive properties of drugs.

Tai Chi as a mindfulness based practice can also help with feelings of boredom during exercise. Being focused on the leading hand, similar to focal points used in sitting meditation, creates a state of "Mushin" or "No Mind," during which here is no sensation of the passage of time, and no element of boredom. Empty of "self," one is filled with a sense of peace and well-being.
---
​Other forms of Mind/Body Training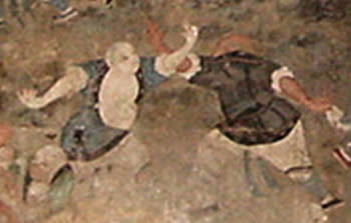 The focus of the Metarobic Institute is on exercises such as Tai Chi. However, the above elements also apply to other traditional martial arts (Tai Chi originated as a form of Kung Fu), which can also be used as a form of Mind/Body training. According to legend, martial training through forms of Kung Fu, as a Mind/Body practice rooted in Zen (Chan), originated at the Shaolin monastery 1500 years ago. The father of Zen (Bodhidharma) is credited with stating: "To train the mind, one must first train the body."

Elements of Tai Chi as Traditional Kung Fu Mind/Body training will be touched on periodically on the Metarobic Institute Mind/Body Blog page.
---