Following are books, resources, workshops and events related to Metarobics and Tai Chi.Tai Chi and Metarobic workshops are focused on evidence based and user friendly movements to maximize elements for health and chronic conditions. These exercises can also be used as a mindfulness based practice for psychological health as well. See the MIND/BODY tab above for more information on these exercises for the health of mind and body.For more information, contact Dr. Tony Gryffin at: drgryffin@metarobics.orgTo help support the Metarobic Institute, please click HERE
Books
CURRENTLY BEING REVISED FOR RELEASE BY YMAA PUBLISHING, A LEADING PUBLISHER IN TAI CHI AND MARTIAL ARTS FOR HEALTH AND MARTIAL TRAINING. ANTICIPATED RELEASE DATE SUMMER 2018.

Everyone knows that exercise is good for your health. It can enhance strength, cardiovascular fitness and mental health. Yet even highly fit people still get sick, experience degenerative diseases of the bones, joints and organs, and are subject to cancer and many other ills (albeit less than their sedentary counterparts). Tai Chi Therapy – The Science of Metarobics presents a new component which could supply the missing element in health and immunity, based on Metarobic theory. Over 50 case stories are also included, with supporting research. Tai Chi Therapy: The Science of Metarobics," presents the development of Metarobic theory, implications for cancer, heart, lung, and kidney disease, asthma, enhanced immunity, diabetes and more. Suggestions for research, teaching, and learning Tai Chi is also presented.


---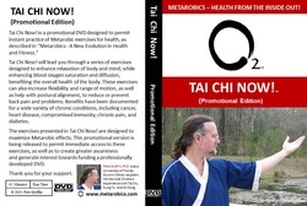 METAROBICS YOUTUBE CHANNEL

Clicking the link above will take you to the Metarobics Youtube Channel, which presents videos of easy to follow sections of Tai Chi for home practice. Also included is the Tai Chi 24 form, and a walking exercise (breaking down the method of moving to enhance following the Tai Chi 24 form). The walking exercise can also be used to enhance balance.
---
World Tai Chi & Qigong Day Resources(For more information and resources on World Tai Chi & Qigong Day, click HERE18 by 24 Inch Poster, sharing information on World Tai Chi & Qigong Day, and benefits and promotion from a Metarobic Perspective:

18X24 Inch Poster
Power Point Version, for Modification

8.5 by 11 Inch Information Sheet, sharing information on World Tai Chi & Qigong Day, and benefits and promotion from a Metarobic Perspective.
Power Point Version, for Modification
WORKSHOPS, CLASSES AND EVENTS

Coming Soon - Tai Chi for Health, hosted by the Palm Springs and Desert Recreation Districts.April 29 9:00 am - 1:00 pm Civic Center Campus
78495 Calle Tampico, La Quinta, California 92253
World Tai Chi & Qigong Day - Palm Springs/La QuintaIn China millions of people do Tai Chi in the parks, getting fresh air, sunshine and better health. As more people become familiar with the many benefits of Tai Chi, you will see more people doing Tai Chi in America. World Tai Chi & Qigong Day is an annual celebration and promotion of Tai Chi, and related exercises for health, founded by Bill Douglas almost 20 years ago. The Palm Springs/Coachella Valley area will be celebrating this event in conjunction with the City of La Quinta's 35th Birthday Party. Check out our information booth regarding Tai Chi resources in the area, Tai Chi for health and chronic conditions, and join us for free workshops and the 10:00 group practice (no Tai Chi experience necessary).
Join us for World Tai Chi & Qigong Day, along with millions across the globe, celebrated in over 80 nations!September 2nd - 5th
World Congress on Qigong, Tai Chi & Traditional Chinese Medicine
Location: Hotel Whitcomb, San Francisco - 1231 Market St, San Francisco, CA 94103

Among many other workshops, presentations and classes, a Metarobic approach to a physiological and evidence based approach to Tai Chi and related exercises will be shared. Workshop will include how to adapt traditional formats of Tai Chi to create a user friendly approach for medical care, maximizing Metarobic elements to enhance benefits for chronic conditions. Click the link above for more information, or to register.

This event will feature powerful all-day workshops, innovative keynote speakers as well as spectacular feats & amazing demonstrations. You are invited to join in this global movement to advance complementary and alternative medicine! Exciting festivities of the 2016 17th WCQ/TC/TCM include: science symposium, Traditional Chinese Tea served all weekend, Gala Awards Banquet, Spectacular performances in Qi-Healing and Martial Arts, Dinner with Entertainment, Music and Dance. ___________________________________________________
July 17th, 9:00-10:00 A.M.
Tai Chi, the "Grand Ultimate!" with Dr. Tony Gryffin
At the California World Fest.
Experience user friendly group Tai Chi practice, with benefits for health, enhanced mental well-being, and greater spiritual understanding. The word Tai Chi translates as "The Grand Ultimate," as an empowered way of living. Come and explore the best of Mind, Body and Spirit.Dr. Tony Gryffin has taught for retreat centers, medical centers and universities. Tony's work has been featured at several national conferences. He has over 15 publications to his credit, including his groundbreaking book "Tai Chi Therapy – The Science of Metarobics.

​Click HERE for more information.____________________________________________________
June 4th, 10:00 A.M. - MasterMind Talk at the Speakers Bureau ToastmastersHere Dr. Gryffin makes it clear that this is not just a speaking event. This is the beginning of an era. If you want to leverage what his research has shown, you will make the time to attend this event. Metarobics is the new buzz word. This is a Toastmasters event, which is a fabulous organization to develop presentation and speaking skills for all levels. Click HERE for more information._____________________________________________________________________

Click HERE for Official "World Tai Chi & Qigong Day" Website
Below is information for the Sacramento, California event. Dr. Gryffin will be giving a short presentation on his work with Metarobics, as well as a short demo on the evolution of Tai Chi.

April 30th, 2016 - World Tai Chi Day at Land Park, Sacramento, CA
The Tong Xin Tai Chi Association, along with other local Tai Chi teachers and students, will join in the 2016 World Tai Chi and Qigong Day - an annual global event held the last Saturday of April to promote the related disciplines of T'ai Chi Ch'uan and Qigong.
It's FREE to attend the event to observe or to join in on a group practice of Tai Chi and Qigong. It doesn't matter what style of Tai Chi you know or if you have never tried Tai Chi before – all are welcome.
An optional lunch is provided at noon for $5 per person, payable at the event.
Space is limited so click
HERE
to reserve your place now (there is no charge for the event)
WHERE
William Land Park - 3800 South Land Park Drive picnic areas 6 and 7, Sacramento, CA 95822 - View Map
WHEN
EVENT PROGRAM (subject to change)
9:00 AM -Setup, registration
9:30 AM - Exercise warm up, Qigong, practice various Tai Chi routines
11:00 AM - Observe demonstrations by various Sifus and students
11:30 AM - Network, mingle, and socialize
12:00 PM - Enjoy optional lunch $5
1:00 PM - End event
LUNCH MENU (subject to change)
Asian Style BBQ Chicken drum sticks
Hotdogs with condiments
Green Salad with ranch dressing
Raw Vegetables sticks
Fresh seasonal fruit
Tea
Water
____________________________________________________________
March 3rd 2016 - Pre-Conference Workshop, related to Metarobics as a Mindfulness Based PracticeHalf Day - 8:00 am - 12:00 pm(Click link below for registration and fees)

The American Psychosocial Oncology Society (APOS) 13th Annual Conference
Tai Chi As A Mindfulness Based Adjunct to Cancer Care
Included in the workshop will be an overview of the psychosocial benefits of Tai Chi as a mindfulness based practice, oncological benefits for pain and cancer treatment, and opportunities for addressing social support. Tai Chi has been identified as an exercise suitable for practice across the lifespan, and as particularly beneficial for older adults. The workshop will also present methods for adapting Tai Chi to appeal to and address the needs of ethnic, racial and culturally diverse and vulnerable populations. Tai Chi (TC) is characterized by slow gentle movements, with a focus on relaxation and the breath while controlling the central balance of the body. Benefits have been reported for balance, cardiovascular disease, cardiopulmonary disease and chronic pain, as well as potential direct benefits for cancer (related to indications of effects on hypoxia and metarobic response). Related to psychosocial benefits, mindfulness based practices have been identified as being beneficial for creating a nonjudgmental state of awareness, paying attention to the moment, and permitting a calm and aware response to moments of stress and anxiety. Mindfulness can enhance quality of life by creating an ability to deal with life pressure, to recognizing and "step away" from habitual thought patterns, which can result in destructive emotions and physiological reactions. Group practice can also enhance social well-being and support. New research will also be shared on Tai Chi and related exercises (such as relaxation and breath focused forms of Yoga and Qigong) and potential benefits for cancer care. A limitation addressed in researching and promoting exercises such as Tai Chi for cancer care has been a lack of understanding of the causes of benefits beyond effects of "Qi," defined as Vital Energy. Research will be presented on metarobic effects related to enhanced blood oxygen diffusion and saturation, and potential effects on hypoxia (oxygen deficiency), which is a complication in cancer treatment (as well as in many other chronic conditions). An easy to follow format of Tai Chi will be presented, developed to facilitate instant practice of Tai Chi for individuals, as well as for small and large groups. A primary limitation with Tai Chi is the long learning curve. Using verbal cues and two simple exercises for coordinating the upper and lower body, the format presented in this workshop eliminates the learning curve, and permits immediate practice of Tai Chi. A public resource for researching and developing evidenced based programs will also be shared.
SELECTED PAST EVENTSJune 19-21 2015TAI CHI FOR BODY, MIND AND SPIRIT
@ The Christine Center
Develop a user friendly Tai Chi practice with benefits for a wide range of chronic conditions, enhanced mental well-being, and greater spiritual understanding from a denominationally friendly perspective. Day one instills the essence of Tai Chi into a physical practice for balance, breathe work and body alignment. Day two continues with a focus on mindfulness for creating enhanced states of self-awareness, for empowered living and relationships. Day three reinforces postures while exploring elements of Tao and Zen which can enhance any spiritual tradition.
Tai Chi has been called "Moving Meditation" due to benefits for mental well-being. It has also been called "Moving Medication" by Harvard Health Watch, due to benefits for health and chronic pain. The word Tai Chi translates as "The Grand Ultimate," as an empowered way of living. Come and explore the best of Mind, Body and Spirit!
Dr. Tony Gryffin, a University of Florida Alumni Fellow, has been practicing Tai Chi for over 30 years. He has taught for medical centers, universities and presented at national conferences. He has over 15 publications to his credit, including his groundbreaking book
Tai Chi Therapy – The Science of Metarobics.
____________________________________________________________June 17 2015INTEGRATIVE HEALTH ACADEMY2015 4OTH ANNUAL NATIONAL WELLNESS CONFERENCEMetarobics: A New Paradigm for QiGong and Tai Chi Healing
Metarobics is based on observations that exercises such as Tai Chi, being neither Aerobic nor Anaerobic, must constitute an entirely new category of exercise, one based on a distinct physiological mechanism of action. Dr. Gryffin's research documents unique effects on blood oxygen saturation and diffusion, with research supporting benefits related to effects on hypoxia (oxygen deficiency) for a variety of chronic diseases, including cancer, heart disease, lung disease, asthma, and diabetes.
____________________________________________________________April 25 2015WORLD TAI CHI DAY EVENT AT UNIVERSITY OF WISCONSIN, STEVENS POINT
Courtyard of the Noel Fine Arts Building, 9AM-12 Noon.
Free Tai Chi and Qi Gong workshops, demos and group practice. Introductory classes will be held by local area instructors from 9:00 – 10:00. from 10:00 to 10:30 everyone gathers together for a group practice using an easy to follow format. Tai Chi demonstrations follow, featuring segments of traditional Tai Chi forms, two person exercises, Tai Chi Sword form, the famous Eight Treasures Exercise, as well as martial art demos. Tai Chi and related exercises have proven effective for a wide range of chronic conditions, and has benefits for immunity, back, knees and balance. It is worth noting that falls are the leading cause of accidental death and injury in older adults. As a mindfulness based practice, Tai Chi also has benefits for stress reduction, smoking cessation, as well as mental and emotional wellness.
NOTE: The event was a great success, with over 70 attendees and radio station coverage by WWSP 90FM.