WHY METAROBICS?
Exercises such as Tai Chi and Qigong have been around for a long time. A growing body of research is supporting a wide range of benefits for a variety of chronic conditions (See the Research pages or Resources/Events page for more information). Yet these exercises are practiced by a small minority of the population. One of the primary barriers identified during a national expert meeting, conducted by the National Council on Aging, is a lack of understanding of how and why these exercises provide such a variety of benefits, beyond "Qi," usually defined as "Vital Energy." This has been identified as a barrier to the adoption of Tai Chi for those who desire a more specific answer, as to how and why exercises such as Tai Chi would be of benefit (as stated by a survey respondent – "It looks like they are waiving their hands around for no reason"). Another barrier identified was a lack of user friendly classes for older adults, and for those with chronic conditions.

With the wide range of chronic conditions which exercises such as Tai Chi benefits, it is critical to research, support and promote an evidence and theory based perspective of these exercises. The term Metarobics (alternatively Metaerobics), is based on over five years of research and investigation, and provides a good fit within the Aerobic and Anaerobic categories of exercise. Since there is no category for which these exercises currently fit, many sources state that exercises such as Tai Chi may qualify as "low impact aerobics." But many of these exercises are performed stationary, with almost no increase in heart rate. Even the more dynamic forms are performed slowly, and the heart rate does not increase to what could be considered aerobic levels, according to a review published by Dr. Lee and others in the British Journal of Sports Medicine (Is tai chi beneficial for improving aerobic capacity? A systematic review).

To facilitate adoption of these exercises in the general public, it is important to develop a testable and relevant theory based perspective. Metarobic Theory does this, [related to unique and measurable effects on enhanced blood oxygen saturation, diffusion, and oxygen based metabolism). Metarobic Theory can provide a basis for further understanding of the various mechanisms of action, and for the effective promotion of breath focused relaxation forms of Tai Chi, Qi Gong and Yoga (and possibly even walking, since in many ways, walking, particularly with a focus on the breath, may be closer to a Metarobic versus Aerobic exercise). Following are charts which support the importance of promoting a Metarobic or similar view of these exercises, as well as a note by Bill Douglas (founder of World Tai Chi and Qigong Day, and noted author):
​THE DEVELOPMENT OF AEROBIC EXERCISE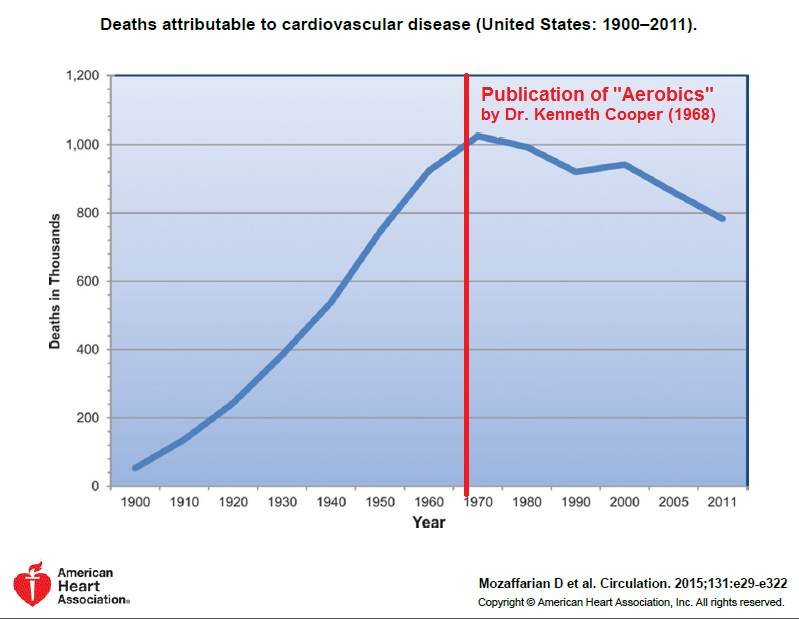 Forty-five years ago few people ran, biked or did any kind of aerobic exercise. Exercise was considered exercise. Dr. Ken Cooper, a military doctor, observed that those who looked most fit (weight lifters) had poor endurance on the treadmill, compared to those who biked or ran. He noted differences in heart rate, and coined the term "Aerobic" exercise. The publication of his book sold over 30 million copies, and launched the aerobic industry and revolution. Promoting a Metarobic perspective of exercises such as Tai Chi may have a similar effect, as a valid and effective form of exercise for a variety of chronic conditions. Sadly, changes in the publishing industry has currently limited "Tai Chi Therapy: The Science of Metarobics," to availability on Amazon.com, pending further support and interest. Below is a list showing potential impact of the promotion of a Metarobic perspective on the leading causes of death in the United States (2013), based on the popularization of aerobic exercise (which resulted in a 25% decrease in cardiovascular deaths). Research presented in Dr. Gryffin's forthcoming book "Mindful Exercise: Metarobics, Healing, and the Power of Tai Chi" supports Metarobic Benefits for all of the following conditions:

Heart disease (all causes): 611,105 deaths, 25% reduction = 152,776 potential lives saved (Primarily from benefits for high blood pressure, and enhanced circulation).
Cancer: 584,881 deaths, 25% reduction = 146,220 potential lives saved (Current research supports benefits for complimentary care, and potential direct benefits on cancer treatment related to effects on hypoxia).
Chronic lower respiratory disease: 149,205 deaths, 25% reduction = 37,301 potential lives saved. (Enhanced breathing and oxygen use is a hallmark of Metarobic exercises. Secondary benefits may arise from effects on smoking cessation as a mindfulness based practice).
Accidents: 130,557 deaths, 25% reduction = 32,639 potential lives saved (Primarily from benefits for balance. Death from falls is the leading cause of accidental deaths in older adults).
Stroke: 128,978 deaths, 25% reduction = 32,244 potential lives saved. (See notes for heart disease above).
Alzheimer's Disease: 84,767 deaths, 25% reduction = 21,191 potential lives saved. (Not much is known regarding causes of Alzheimer's and Dementia, but preliminary research supports potential benefits).
Diabetes: 75,578 deaths, 25% reduction = 18,894 potential lives saved. (Initial research indicated benefits are primarily related to quality of life and enhanced control of diabetes. Promising new research indicates possible more direct benefits).
Influenza and Pneumonia: 56,979 deaths, 25% reduction = 14,245 potential lives saved. (Primarily related to enhanced immunity, due to increase in T-Lymphocytes).
Kidney Disease: 47,112 deaths, 25% reduction = 11,778 potential lives saved. (Related to enhanced micro-circulation)
Suicide: 41,149 deaths, 25% reduction = 10,287 potential lives saved (Through awareness and mindfulness based aspect, as well as effect on positive mood).

Total: 2,596,993 deaths, 25% reduction = 649,248 potential lives saved each year.
​
​METAROBICS AND THE DIFFUSION OF INNOVATIONS

Everett Rogers wrote the seminal work "The Diffusion of Innovations." The second most cited book in the social sciences, and a hallmark in the field of business, Rogers' work documents the stages of adoption of any new innovation. One of the primary barriers to the promotion and adoption of Tai Chi in the public, according to diffusion theory, is the narrow target audience (the Innovators, those willing to try new and innovative things). As noted above, vague and ambiguous mechanisms of benefits (i.e. "Qi" as vital energy), and the lack of user-friendly formats, has been identified as the primary barriers to the later adopter categories. Traditionally, Tai Chi can take years to learn. The theory and method of practice, related to Metarobics, addresses these barriers, and offers a prime opportunity to popularize these exercises in the general public. According to Diffusion of Innovation Theory, it is imperative to develop a relevant and user-friendly understanding of exercises such as Tai Chi, in order for these exercises to become adopted on a wider scale, beyond the Innovator Category.

​
​REVIEW OF "TAI CHI THERAPY: THE SCIENCE OF METAROBICS," BY BILL DOUGLAS
Bill Douglas is the founder of World Tai Chi & Qigong Day (celebrated in 80 nations); 2009 Inductee to the Internal Arts Hall of Fame in New York; author of "The Complete Idiot's Guide to T'ai Chi & Qigong" (4 editions); Recipient of the "Extraordinary Service in the Field of Qigong" from the National Qigong Association; and recipient of the "Media Excellence Award" from the World Congress on Qigong.

"As founder/director of the world's largest Tai Chi & Qigong health education event (World Tai Chi Day), and connecting with teachers of these arts worldwide following release of four editions of my own best-selling Tai Chi book published in several languages, and as a nearly forty-year student of the evolution of Tai Chi and Qigong in America and worldwide ... I have seen 3 paradigm shifts that profoundly expanded global use of these extraordinary mind-body arts: Ken Cohen's "The Way of Qigong: The Art and Science of Chinese Energy Healing;" Dr. Peter Wayne's "Harvard Medical School Guide to Tai Chi;" and now ... Dr. P. Anthony Gryffin's forthcoming book "Mindful Exercise: Metarobics, Healing, and the Power of Tai Chi."

This book is a portal that will change the way Tai Chi and Qigong are approached, so that modern medical science can join hands with these ancient-mind body sciences to become co-evolutionary. Science can help Tai Chi and Qigong evolve and become even more effective. The introduction of mind-body sciences like Tai Chi and Qigong will save global society trillions in health costs. I have seen millions of dollars saved by our health system, just due to my own hospital classes. As this book points out, this is happening all across the globe, which mirrors my experience of organizing World Tai Chi & Qigong Day in over 80 nations, and speaking to Tai Chi and Qigong teachers worldwide. Today, over two-million Americans do Tai Chi according to the NIH. This book can help open a portal that will in time see that increase to 20, 30, or even 60% of Americans using these highly effective tools of Tai Chi and Qigong, perhaps even expanding them into public education as a hybrid physical education/health science class. This book, and books like it that will surely follow in its wake, could lay the groundwork for such a movement.

I teach Tai Chi Meditation programs through one of the world's largest medical university hospitals, conducting ongoing classes for people dealing with Parkinson's Disease, Heart Disease, Multiple Sclerosis, Chronic Pain, Balance, Dementia, Type 2 Diabetes, Mobility, and more, and have seen patients experiencing the benefits this book's research cites. But now, thanks to Dr. Gryffin's brilliant book, I have a methodical, clear and profoundly hopeful and exciting way to much more quickly help my students understand just how vast and multidimensional the benefits they can get. As a teacher, our struggle is to translate the internal experiences we have enjoyed from Tai Chi and Qigong, so that another person can understand it, envision it, and then practice it. "Mindful Exercise" does so clearly, methodically and brilliantly, combining Tai Chi and Qigong insights with modern science. This seminal work should be read, not just by all those in my own hospital classes, but by every Tai Chi and Qigong student, by every teacher of the arts, by every health professional and government health ministry or department employee, and by everyone seeking a more enjoyable and profound life, and a more abundant, clear and healthy society."