Dedicated to the research, understanding and growth of Metarobic exercise (Tai Chi, Qigong, Yoga and other practices which focus on relaxation and the breath) for the health of mind and body.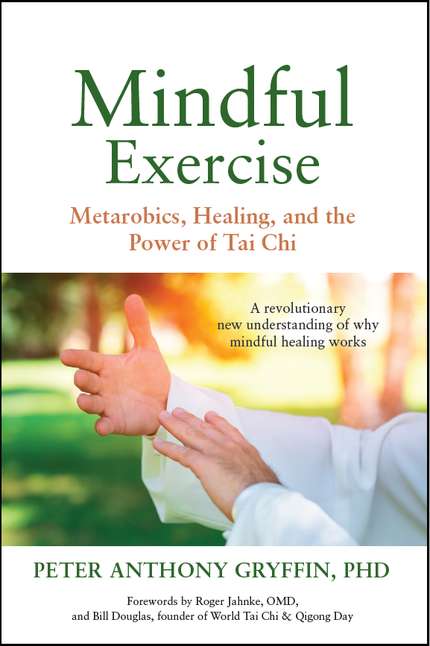 Dr. Gryffin's new book is now available your local bookseller, or for order at:
Amazon.com
BarnesandNoble
Books-a-Million

The study of Metarobics promises to create a new health industry, as well as a new field of research. As noted by Bill Douglas (noted author of four editions in several languages of a best-selling Tai Chi book, and founder of the world's largest Tai Chi & Qigong health education event):

"
I have seen two paradigm shifts that profoundly expanded global use of these extraordinary mind-body arts...and now
Dr. Pete Anthony Gryffin's "
Mindful Exercise: Metarobics, Healing, and the Power of Tai Chi." Th
is book can help open a portal that will in time see an increase to 20, 30, or even 60% of Americans using these highly effective tools..."
​
For more information, contact Dr. Tony Gryffin at: drgryffin@metarobics.org
---
​"A persuasive picture of tai chi's healing effects bolstered by compelling data and enlivened by an array of personal testimonials." —Kirkus Reviews

"Merges meditation and exercise ... may well lead to a new definition of optimal well-being."
—Rudolph E. Tanzi, PhD, professor of neurology, Harvard Medical School; New York Times best-selling author of The Healing Self

"Will surely become 'the prescription' of choice for all responsible medical providers! I am enthusiastic about recommending it!"
—Roger Jahnke, OMD, author of The Healing Promise of Qi



"Mindful Exercise and the Metarobic approach opened my eyes, and they can open yours too."
​—Dr. John Day, author of The Longevity Plan





"A portal that will change the way tai chi and qigong are approached; modern medical science can join hands with these ancient mind-body sciences to become co-evolutionary."


—Bill Douglas, author of The Complete Idiot's Guide to T'ai Chi & Qigong
Metarobics* is based on the research of Dr. Tony Gryffin, related to the need for a physiological understanding of how and why exercises such as Tai Chi (and forms of Yoga and Qigong focused on relaxation and the breath), resulted in benefits for health and chronic conditions. Based on feedback from the general public, researchers, and the medical field, there existed a need to understand mechanisms of benefits beyond concepts of "Qi" as "Vital Energy," in order to better promote and understand these exercises. It is not the goal of Metarobic theory to replace nor undermine Traditional Chinese Medicine, but rather to establish support for a better physiological understanding of these exercises.

Underlying the basic premise of Metarobic theory,* is if physiological benefits are being derived, then there are measurable physiological mechanisms which can be measured and understood. From this understanding, exercises such as forms of Tai Chi, Qigong and Yoga might be better prescribed, to maximize benefits for various chronic conditions.

*Metarobics comes from observations and research supporting benefits related to enhanced oxygen based metabolism, as well as the root of "Meta" as "superior." Metarobics is focused on enhanced oxygen use in the body. Hypoxia (deficiency of oxygen reaching the tissues) underlies or complicates a wide range of chronic conditions (including cancer, heart, lung and kidney disease, diabetes, asthma, arthritis, chronic pain, compromised immunity, and more). Metarobics offers an evidence based theoretical construct, which future research will enhance understanding of, or reshape into new areas of understanding. The important thing is that Metarobics supports the need for a physiological understanding of the benefits of exercises for health and chronic conditions, which are neither aerobic nor anaerobic.

Mission The mission of the Metarobic Institute is to foster an evidence based understanding of relaxation and breath focused exercises (which are neither aerobic nor anaerobic), to increase adoption and use of these exercises by the medical establishment and the general public. The Metarobic Institute provides information and resources to support the growth of Metarobics for optimal health, and to address the growing chronic health crises. Also including benefits as a mindfulness based practice for enhanced psychological health. Goals

To support and develop research into a better understanding of Metarobic exercise (including forms of Tai Chi, Qigong, Yoga, and other exercises with a focus on relaxation and the breath).
To foster awareness in the public of how Metarobic exercises can benefit various chronic conditions (promoting adoption of these exercises in the mainstream, as well as at the workplace and other venues).
To support the growth of Metarobic exercises through the development of teacher training programs and resources for the public, at free or reduced costs.
To develop Metarobics (including Tai Chi and Yoga therapy), as a professional field, with greater opportunities for teachers for employment as a profession.
ABOUT DR. GRYFFIN
Dr. P. Anthony Gryffin has over 30 years of experience with Tai Chi, Qigong, Yoga and Kung Fu. His research includes implications related to hypoxia, cancer and Tai Chi; the development of the theory of Metarobics; and Mindfulness Based Practices for health of mind and body. He has been a Tai Chi instructor for the Shands Arts in Medicine program, and for Fullerton College, where he developed the curriculum for eight new courses oriented around mind/body health and fitness (using traditional martial training and wilderness experiences). Tony is a regular presenter at state and national conferences. His work includes over fifteen commercial and professional publications. He was an Alumni Fellow at the University of Florida, where he received his PhD in Health and Human Performance.
---